O Meien, 9 dan professional player, played a game with Zen, a computer-Go program. O Meien gave Zen 7-stones handicap and won easily – white was ahead by a huge margin when black resigned.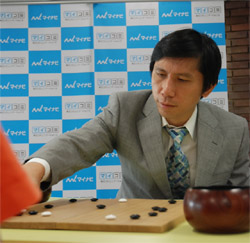 Zen's current KGS rating is
here
. More information about this match can be found on the
Go Discussions forum
. Here is the
game record
.
…
O Meien is the author of the
"Zone Press Park"
book, the recently translated into English. He is also the brother of
Tei Meiko
9p, who was the official instructor while I was
insei in Japan
. More information about O Meien on
Sensei's Library
.