Just found an article about Cho Hye Yeon's blog in the English section of the Korean newspaper Chosun Ilbo:
"Student's Blog Takes Baduk to a Global Audience"
.
According to wikipedia
, Chosun Ilbo is one of the major newspapers in South Korea. I
wrote about Hye Yeon and her wonderful blog
in the past as well. Very recently (yesterday, actually),
she defended the honor of the female team in the GG Auction Cup
, stopping Kim Jongsoo. (This is a Korean tournament between female players and senior male players. The first in the senior team was the famous Jimmy Cha (Cha Minsoo is his Korean name) who eliminated 5 female players before being finally defeated by Lee Minjin. She defeated 4 more seniors before losing to Kim Jongsoo). Here's Hye Yeon playing agains Kim Jongsoo:
Photo after the game: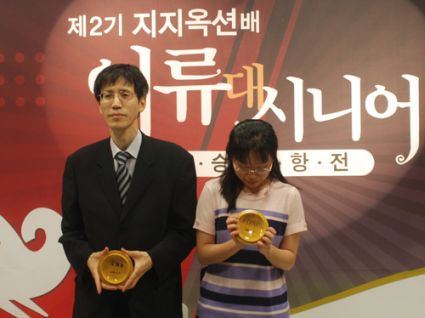 The lids of stone bowls signed by the two players. Guess which one is signed by Hye Yeon: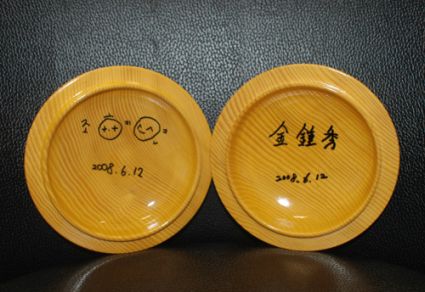 Very luckily for the American Go players,
Hye Yeon will visit the US Go Congress this year
!