Lee Minjin of Korea (right in the photo below) eliminated Tang Yi of China from the
6th Jeongganjang Cup on April 1st. (
Link to the game
)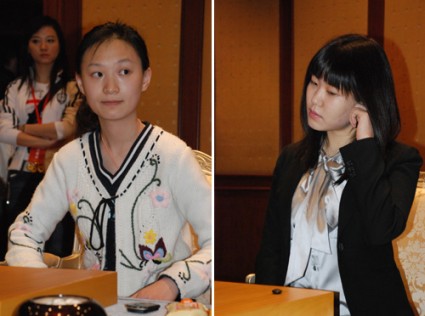 Here is the after game discussion with Rui Naiwei.
Then she eliminated Kato Keiko of Japan as well on April 2nd. (
Link to the game
)
Japan is eliminated from the competition. China is down to the last player, Rui Naiwei. Korea has, besides Lee Minjin, Park Jieun as well. Rui Naiwei is in an interesting position because during the past many years she has been playing in Korea. In particular,
Lee Minjin eliminated Rui Naiwei from the Women Kuksu
(but lost the final to Park Jieun 1-2) less than 2 weeks ago, so in today's game Rui must be particularly motivated against Lee.