First round of the international Fujitsu Cup was played yesterday. The Japanese team had an unexpectedly good start (considering that recently all international competitions are dominated by Korea and China): all Japanese players won their games and will play in round 2: Kono Rin defeated Kong Jie of China, Hane Naoki defeated Jie Lie (US amateur representing North America), Cho U defeated Fernando Aguilar (Argentina amateur representing South America), Takao Shinji defeated Zhou Ruiyang of China, Iyama Yuta defeated Won Sungjin of Korea, and Moriyama Naoki defeated Franz Josef Dickhut (amateur from Germany, representing Europe). While three of the Japanese wins were "expected", since those games were matching professionals with amateurs, the overall result is still impressive. Here is a photo with the Japanese players from the first round. From left to rigth: Iyama Yuta, Kono Rin, Moriyama Naoki, Takao Shinji, Hane Naoki, Cho U:
Here is a photo from the game between Kono Rin (Japan), on the right side and Kong Jie (China):
  And a photo from the game between Iyama Yuta (Japan), on the left side, and Won Sungjin (Korea):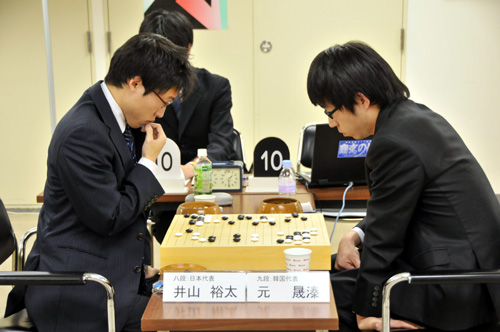 The real tough matches will start from round 2 though – to be played on April 13th (Japan time) – since the world top players will be seeded directly in round 2: Gu Li, Chang Hao, Lee Changho, Lee Sedol. Among the Japanese players Yamashita Keigo, Kisei title holder, was seeded directly in round 2. Tournament table and game records
here
.