Iyama Yuta who challenges Cho U for the Japanese Kisei title won game one by resignation.
Here is the exchange that took place at the end of the game:
The continuation is puzzling though – did Cho U make a mistake, or just set the scene for resignation? Here are the final moves. After black cuts with 6, a and b are miai for black, and he wins the semeai on the upper side.
White should have played as in the following diagram. The game looks close to me after this – in fact white looks a little ahead, but maybe I am missing something.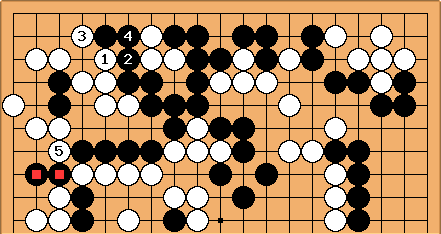 Here is the complete game.
(;FF[4]GM[1]SZ[19]ST[1]CA[UTF-8]AP[SGFC:1.16] EV[Kisei 2011, game 1] PB[Iyama Yuta] BR[9DP] HA[0] PW[Cho U] WR[9DP] KM[6.5] DT[2011-01-14] RE[B+R] ;B[pd];W[dp];B[qp];W[ed];B[cd];W[cc];B[ic];W[dd];B[ce];W[bc] ;B[cn];W[fp];B[dj];W[oq];B[kq];W[on];B[qm];W[iq];B[ko];W[ol] ;B[pk];W[ok];B[pj];W[oj];B[pi];W[jp];B[kp];W[km];B[jo];W[im] ;B[ho];W[gq];B[hr];W[ir];B[hm];W[in];B[io];W[hn];B[hq];W[gr] ;B[fo];W[hp];B[gn];W[dn];B[dm];W[en];B[il];W[jl];B[jm];W[jn] ;B[kn];W[jm];B[lm];W[ik];B[lk];W[mn];B[ln];W[hl];B[gm];W[fl] ;B[po];W[oo];B[pq];W[pr];B[or];W[nr];B[gp];W[go];B[op];W[nq] ;B[gp];W[hs];B[ep];W[go];B[np];W[mp];B[gp];W[fq];B[eo];W[do] ;B[eq];W[go];B[er];W[dl];B[cq];W[lr];B[kr];W[js];B[mq];W[no] ;B[pp];W[lq];B[lp];W[mo];B[gp];W[cm];B[ls];W[mr];B[go];W[ks] ;B[dg];W[dq];B[dr];W[bq];B[cp];W[co];B[bp];W[bo];B[br];W[gc] ;B[nc];W[ci];B[di];W[cj];B[ch];W[eh];B[ck];W[bk];B[eg];W[fh] ;B[fg];W[gh];B[gg];W[hg];B[hf];W[if];B[he];W[ig];B[ie];W[qd] ;B[qe];W[pc];B[od];W[rc];B[re];W[ob];B[nb];W[qb];B[qr];W[dh] ;B[bh];W[bj];B[hj];W[hi];B[gl];W[ij];B[gk];W[fj];B[rd];W[qc] ;B[hb];W[gb];B[jf];W[jg];B[kf];W[mg];B[kg];W[kh];B[ps];W[pl] ;B[ql];W[pn];B[qn];W[me];B[og];W[ng];B[lh];W[oh];B[ki];W[of] ;B[jh];W[ii];B[pg];W[oi];B[ph];W[ld];B[lc];W[hc];B[ib];W[kc] ;B[kb];W[jd];B[jc];W[kd];B[id];W[mc];B[fk];W[ek];B[lb];W[ae] ;B[fm];W[bf];B[em];W[dk];B[fd];W[fe];B[gd];W[ee];B[ge];W[cf] ;B[eb];W[fc];B[ec];W[db];B[ea];W[ga];B[dc])