The 11th Nongshim Cup started with Kim Jiseok 6p of S. Korea eliminating Yamashita Keigo 9p (and Kisei title holder) of Japan.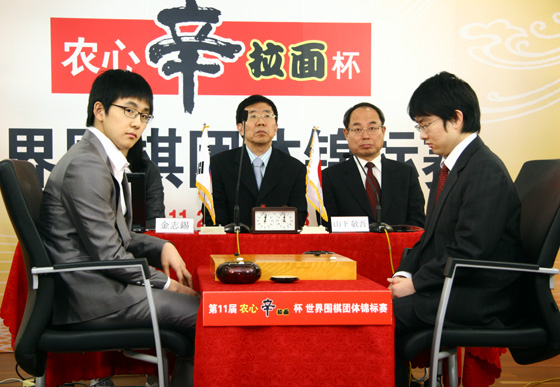 Here are the players from each of the three participating countries:
Korea: Lee Changho(9p), Park Yeonghun(9p), Yun Junsang(7p), Kim Jiseok(6p), Kim Seongjae(3p)
China: Chang Hao(9p), Ding Wei(9p), Gu Li(9p), Xie He(7p), Liu Xing(7p)
Japan: Yamada Kimio(9p), Hane Naoki(9p), Takao Shinji(9p), Yamashita Keigo(9p), Iyama Yuta(9p)
Next game will be played tomorrow (or tonight in the US) with Kim Jiseok being matched against one of the Chinese players.
Tournament table here.
Tags: kim jiseok, nongshim cup, yamashita keigo