The two finalists in the international BC Cup are Gu Li of China and Cho Hanseung of Korea. To qualify in this final, Gu Li defeated Lee Wondo (Korea), Lee Jungwoo (Korea), Heo Yeongho (Korea), Piao Wenyao (China) and Cho Hunhyun (Korea, the ex-teacher of Lee Changho), while Cho Hanseung defeated Xie He (China), An Hyungjun (Korea), Iyama Yuta (Japan), Huang Yizhong (China) and Lee Sedol (Korea). The score is 1:1 so far: Gu Li won the first game but lost the second one. Here is a photo from the second game: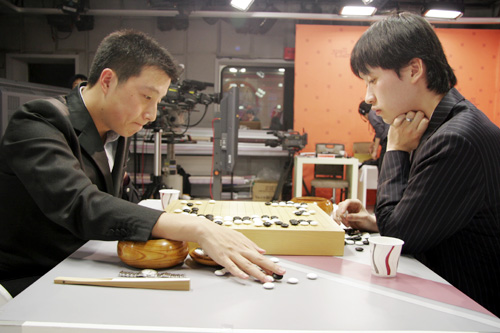 Here is the game record of the first game, when Gu Li won by resignation.
loading
And here is the game record of the second game, won by resignation by Cho Hanseung.
loading
The next three games are scheduled in the next three days (BC Cup final is played in a best-of-five system).
Tags: bc cup, cho hanseung, gu li