First round of the Ing 2008 international tournament was played yesterday in Shanghai, China. Only Cho Chikun survived from the Japanese team: he defeated Cho U who played for Taiwan in this tournament.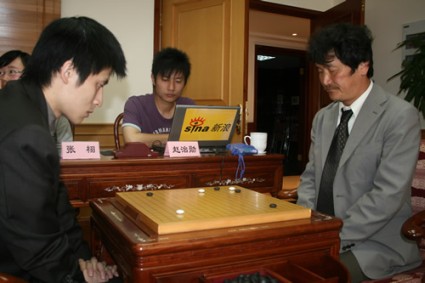 Takao Shinji Honinbo lost to Wang Lei of China, Yamashita Keigo Kisei lost to Gu Li of China. The only other Japanese player to play in round 2 is O Meien, who is seeded into the second round. You can see O Meien in the following photo, analyzing games from the first round (together with Otake Hideo of Japan and Cho Hunhyun of Korea, both standing).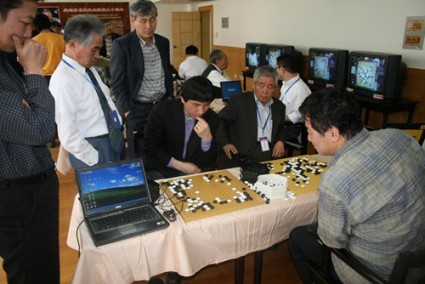 Lee Sedol of Korea won against Hu Yaoyu of China by 5 points, but only after winning 6 points through the special Ing rule (one loses points by using extra time in the Ing Cup). Chang Hao of China and Lee Changho of Korea will be also seeded into the second round (to be played tomorrow). The most interesting game for me though was the one played by Catalin Taranu 5p of Romania (the European representative at this Ing Cup) against Piao Wenyao 5p of China. After the dust settled from a violent fight in the center of the board, Catalin (Black) ended up capturing a group of Piao's and I thought he is ahead, but lost a large area himself in the upper left (Black 39 in the diagram eliminates the possibility of White starting a ko fight for his dead stones on the lower side, while White 40 makes sure Black cannot live in the upper left).
Catalin lost in the end, unfortunately (by 11 points). You can replay the game below. The American representative, Jiang Mingjiu 7p, lost as well (against Liu Xing 7p of China). Can you recognize the 9p photographer from the following tournament photo?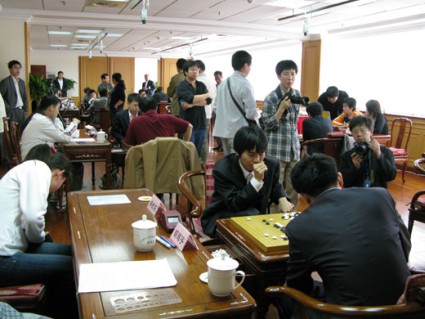 Tournament schedule and results
at Go Topics
.
Tags: catalin taranu, cho chikun, cho u, ing, o meien